Market must

The UK is a follower of fashion with traditions adopted from around the world including American trends such as Halloween and baby showers. Undoubtedly one of the greatest of these has to be the Christmas market.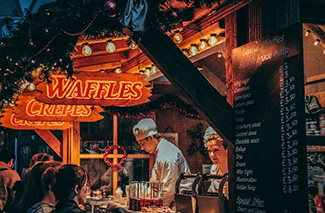 Whilst these have been going since medieval times in Germany and parts of France, Christmas markets are a relatively new phenomenon in the UK with the majority less than 20 years old. However, they are now very much part of the festive celebrations with good-natured rivalry between cities and towns as to which has produced the best atmosphere this year.
According to a study by Christmas Tree World, the top market for 2022 is Manchester, scoring 7.54/10 followed closely by Nottingham and Leeds. The city's Christmas market was searched some 60,000 times on Google during the festive seasonand gains an average of 8,000 Instagram mentions a month.
If you are involved in planning a Christmas market in December 2023 - Harrogate Christmas & Gift should be high on your agenda. Don't forget to register today www.harrogatefair.com.
One of a kind
To make its products unique, Boltze product management team creates new exclusive designs every season and these are only available from Boltze. Current trends for patterns, colours and shapes are incorporated into loving designs. The end result is an own-design series consisting of different product groups allowing customers to put together their own individual sets with a total of 84 new own design awaiting them this season.

Visit Boltze on Stand M25

Hello Pumpkin
Get ready for cosy season with Portland Living's collection of seasonal gifts and interiors. It will be easy to fall in love with their unique gifts and decorations with their signature style which combines a rustic farmhouse aesthetic with classic designs. Their timeless ranges will enable your customers to love every corner of their home.

Visit Portland Living on Stand B8
Light up Gonks
Celebrate Christmas in traditional Nordic style with personalised festive light-up bearded gonks from History & Heraldry. A warm woolly hat embroidered with popular names adorns the head with a woolly string to hang them on the Christmas tree.
Personalised, with popular names and generic titles.
Blank titles are also included to write a name on.
Ultra-bright LED light which runs on replaceable batteries.
On-trend Nordic style Christmas tree decorations.
Visit History & Heraldry on Stand B6