Join us for celebrations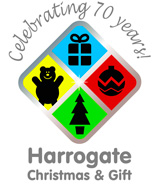 Harrogate Christmas & Gift has been thriving for 70 years! And to celebrate its anniversary the organising team invites all exhibitors and visitors to join them in the Royal Hall of the Harrogate Convention Centre on Monday 13th January 2020 from 6.00pm to 8.30pm for drinks and canapes (straight after the show).
In addition, all visitors can enjoy FREE hot and cold drinks for the duration of show on presentation of their visitor badge at the catering point in Hall Q. Hot and cold food and beverages will also be available to purchase in Halls B and C.
Full information about the show and registration can be found at www.harrogatefair.com and a online version of the show guide is now available to view here.

Merry Christmas everyone – wishing you and your loved ones a very happy holiday!
Great balls of light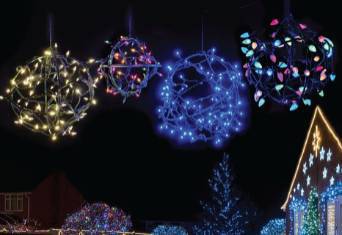 Decorations will be given an illuminating boost next Christmas with the Anglo American Decoshape Christmas Light Ball Frames. Made from durable concentric plastic circles in a forest green colour which snap together to form a frame for incandescent or LED light strings. Decoshape is available in 10" and 15" diameter sizes and hold 100+ or 150+ lights and guarantee to add beautiful colour to trees, porches, indoors – in fact anywhere. Unclip after Christmas and store flat for next year.
Available exclusively in the UK from Anglo American on Stand C2
Bespoke baubles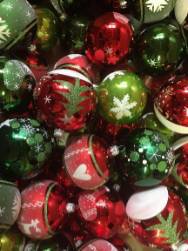 Northern Slovakian company Freedom Juniors is new to the show this year and focuses on beautiful handmade glass Christmas ornaments.
The company defines the highest quality by mouth blowing and hand painting, so each bauble is being 'touched' delicately with care. For more than 20 years the company has been bringing baubles from its factory to the market – and of course to Christmas trees – with the latest trends in design and colour. Every year, the company creates new collections with enthusiasm and detail with the focus directed at market demand. However, it also delivers individualism with custom designs to the customer's specification.
Already on sale all over Western Europe, the company looks forward to presenting its designs to the UK market in Harrogate. Visit Freedom Juniors on Stand B25
Time for a selfie?
Since closing its 2019 showroom in June, the Festive elves have been hard at work bringing new, on-trend core themes and sub capsules to life. With more large visual display items than ever before, vastly extended lines of product spanning multiple different materials and finishes, plus its world famous UK manufactured tinsel, Festive's collection is bigger and better than ever.
Don't just take our word for it – make sure your drop by Festive's stand at Harrogate where you will also get the opportunity to ride and snap a selfie on its Festive Flyer!
Visit Festive on Stand C1