Information about the 2019 event will be available soon.
2018 Big Night Out!
Harrogate Christmas & Gift has announced a fabulous new event this year - an evening of entertainment with top comedian Dave Spikey, co-star of That Peter Kay Thing and Phoenix Nights; plus, one of the original team captains on hit series 8-out-of-10 Cats. Dave will also be accompanied by hilarious Irish, Iranian, Geordie comedian Patrick Monahan who won Show Me the Funny in 2011 and performs regularly at the Edinburgh Festival Fringe.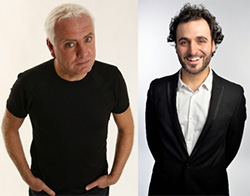 The evening includes great food, music and dancing, providing exhibitors with the perfect platform to entertain valued customers at the show. The event, which takes place on Sunday 14th January 2018 at The Old Swan in Harrogate, includes a four-course meal and at just £45 + VAT per ticket, offers terrific value and a night to remember for everyone involved.
Simon Anslow, show organiser, explains: "There are no industry awards taking place parallel to the show in Harrogate this year, but everyone thoroughly enjoys a party atmosphere, so the Christmas & Gift team has pushed out the boat to provide what promises to be a very memorable evening."
Ticket numbers are limited to 300, and with almost 5,000 visitors at Harrogate Christmas & Gift last year, they are expected to sell out fast. This is a great opportunity for exhibitors to entertain clients with a fantastic night out and reward teams for their hard work at the show.