A host of exciting new products

Harrogate Christmas & Gift welcomes a host of brand new exhibitors to the show this year and promises retailers and buyers a larger and more diverse range of products than ever before.
Exhibiting for the first time includes Heyland and Whittle with gorgeous hand-made soaps, candles and room diffusers; and Charles Taylor Trading with traditional hand-crafted garden furniture and Giftscribes Gifts which is the sole UK wholesale distributor of the Rudolph and Me Inc. products with one of the largest selection of personalisable Christmas tree decorations in the UK and currently over 250 designs to choose from.
Don't forget to pre-register for the show at www.harrogatefair.com – it's free to attend!

Got it wrapped
The Art File is delighted to be exhibiting at Harrogate Christmas & Gift for the very first time in 2018. Buyers can be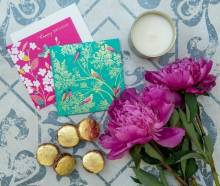 among the first to see the company's brand-new Christmas 2018 product, as well as a selection of brand new greeting card, giftbag and gift wrapping collections for the new year.
Successful collections such as Sara Miller London, Natural History by Ben Rothery, and recent Best Male Range winning card collection, Geronimo will also be available on our stand for show goers to see. Visit The Art File on Stand Q56


Stroke and Change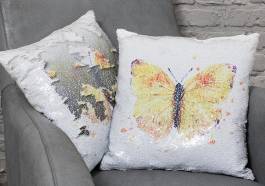 Lesser & Pavey is delighted to offer something new and original to the giftware market place in the way of a home accessory. Whether they become a feature of a bedroom or a lounge, these cushions change as you stroke the surface and come in the following designs Mermaid, Flamingo, Unicorn, Butterfly, Cat, Dog and Kitten.
As well as plain colour mixes featuring Black changing to silver, White to silver, Champagne to cream and Black to gold. These are all covered in soft sequins and colours change when the sequins on the cushions are hand brushed up and down.
This range is complemented by Mermaid tail blankets in Pink, Turquoise and a Rainbow mix of both, as well as Flamingo, Unicorn, Butterfly, Mermaid and Kitten design Bags and Purses. Visit Lesser & Pavey on Stand DO6