Information about the 2020 event will be available soon.
Exhibitor Information - 2019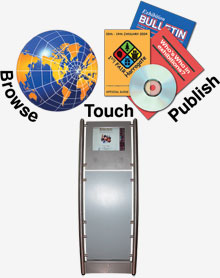 Contact Details
10 Burnell Road
Sutton
Surrey
SM1 4EE
U.K.
Tel: 020 8770 3700
Fax: 020 8661 9295
Email: info@touchfinder.co.uk
Web: www.touchfinder.co.uk

Product Categories
Multimedia
Touch Screen Information Systems
Trade Publications

Information
TouchFinder has been providing innovative high-tech solutions for over twenty-five years. Our services include Touch Screen Locators, Web Site Design, Hosting & Database Programming, Catalogue Production, Exhibition Registration and much more. Talk to us at the registration desk in hall A.
Company/Brand Names Represented
TouchFinder
TouchIt